Why Do We Play Games?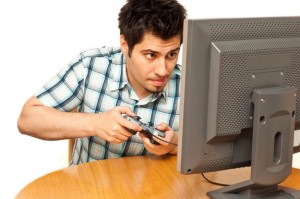 Many people can spend hours on their consoles or personal computers playing games, some play games for a living, others live in the games they play, and in some countries, people become celebrities by finishing a popular game. This got me thinking about the art of playing games, what it means and why we humans do it.
What is a Game?
There is not a grandiose definition of game,many people with their own interpretation of what a game is or means,I, personally would define a game as a human need to overcome unnecessary obstacles. While i do not claim to be an expert in the philosophy behind gaming, i strongly believe that games are not just a form of entertainment but an innate desire to achieve goals and self-fulfilment.
Crawford's Definition
A popular computer game developer Chris Crawford defines a Game as an event meeting a series of criteria. Lets go through them.
Crawford starts by saying that if something is both fun and interactive, then it can be considered as a Plaything.
Now, if this Plaything has no goals behind it, then it is a Toy but if it does have a goal behind it, it is considered to be a Challenge.
Now, if this Challenge does not have agents in which one can interact with, then it is a Puzzle, but if it does have agents or other independent players, it is a Conflict.
A Conflict with no interference from the agents or players is a Competition, while a Conflict with full interaction and interference is a full-pledged Game.
Taking Crawford's definition into account, we can deduce that Life fits the concept of a Game, but it is a complex one. We might not know the outcome of choices we make, or if we would ever win in this game of life, the rules are too complicated and the rewards are slow to come if not non-existent.
Maslow's Hierarchy of Needs
In the mid part of the nineteenth century, Abraham Maslow created an hierarchy of Human needs that is very popular in development psychology.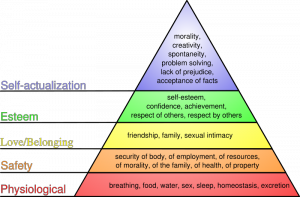 From Maslow's hierarchy, we can see that if the lower needs are not met, then the higher ones cannot be. We, humans are the most socially intelligent species on the planet and have evolved these complex needs to feel fulfilled and useful, but in the long run, life is not as easy as one would have hoped for and so its not much of a surprise that we create games which are simple in the rules it follows, the goals, and the reward for it.
Conclusion
One could say that Games are a miniaturized and simpler form of life, which in-contrast to the larger life, the goals are straight-forward, the method to achieve them are definite and the rewards are instantaneous. They relive us the stress of attaining self-actualization in the complexity of life, and rewards us psychologically faster than life does.